A warm welcome awaits you
Healthy choices made easy
Service with a Smile
Home of the original Onion Mum
A New Orleans favorite breakfast, brunch, and lunch spot since 1985, Russell's Marina Grill serves traditional breakfast and lunch items along with a variety of healthy items, such as eggwhite omelets, sweet potato pancakes, fresh fruit, in house roasted turkey, as well as five different salads and a number of wraps. All desserts such as White Chocolate Bread Pudding, Chocolate Peanut Butter Pie, and Lemon Ice Box Pie are made on the premises. Eat inside at our counter, in our dining room, or outside on our pet friendly patio.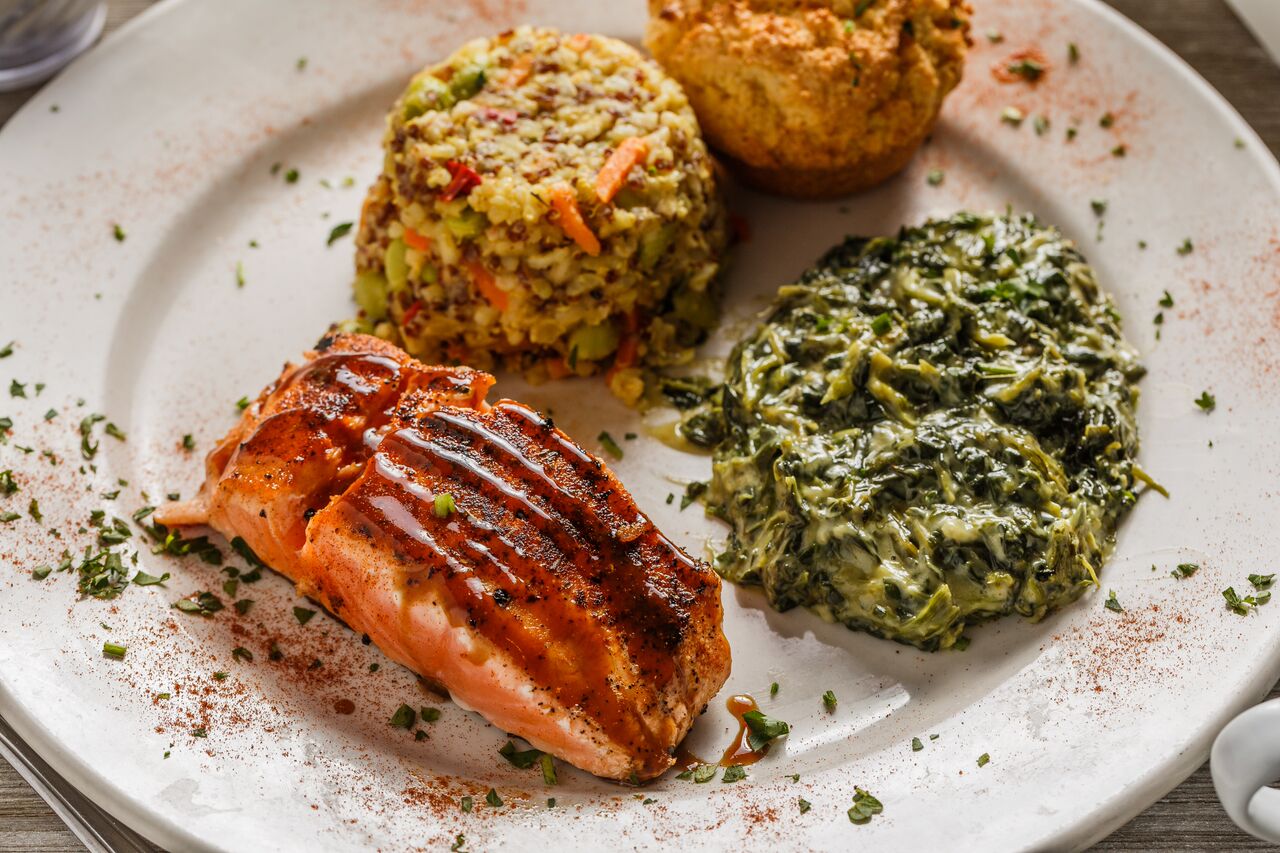 Daily Specials
Red Beans & Rice served with 2 lb ham shank or Alligator Sausage
Ya Mama's Yakamein . New Orleans beef noodle broth, served with boiled egg and chopped green onions.
Grilled Salmon, Topped with orange Dijon glaze and served with Thai red quinoa and vegetables.
Chicken Fried Steak, topped with sausage country gravy and served with baked macaroni with cheese and vegetables
Panned Catfish Masson, topped with shrimp Masson sauce and served over angel hair pasta with vegetables
Southern Fried Chicken, served with baked macaroni and cheese and vegetables
6 oz Filet Mignon, topped with grilled jumbo Shrimp and served with garlic roasted potatoes and vegetables
Customer Stories
CUSTOMER REVIEWS AND TESTIMONIALS
Had breakfast this morning with a friend, we hadn't seen one another in a while and needed to catch up. This was excellent. Despite their being busy we were not rushed at all and the staff was very accommodating of my excessive drinking of iced tea. My friend had the veggie omelette but had it " not healthy" with full eggs not just whites. It was beautiful and she ate every bite. I had the Saints #33 eggs Benedict with alligator sausage, grilled tomatoes on a biscuit with gravy rather than bernaise sauce. Holy Cow was this good. also, the grit cake was out of this world. Not only the server but all the staff were attentive and friendly. The patio is smaller but not crowded and the bus staff did an excellent job of keeping the area clean by pulling the bus pans out quietly and quickly. There were no bugs. It would have been a completely stealth operation had we not been sitting by the gate. If you are a local and haven't been in a while, revisit it. If you are a visitor, check it out.

This was by far the best breakfast I ate at New Orleans and the portions are out of this world big. I don't remember the name of what I got ...think it was something named after the lake but it was delicious!! It was an English muffin, with pecan bacon, fried green tomato, poached egg and hollandaise sauce. It was delicious!!

Driving around the lakefront with our dogs and saw this cute place with outdoor seating and they were enthusiastic about allowing dogs on the patio!!! Not just accepting but glad to see them. They have water bowls on the patios waiting for the paws to refresh. Awesome. We are dog lovers and that alone got my vote. Lunch was excellent. Delicious fried oysters ( 17 on my platter..that's plenty erstas dawlin' ) fried perfectly. Husband had the digger burger which he devoured rapidly. Must have been good! The menu has a lot to choose from and we plan to go back to sample some of the other goodies. Highly recommend this place with or without the puppies. ( we will be bringing them ) Our server was Christie and she was most helpful and friendly. Really glad we stumbled on this fun spot with great food and service.

Do not come here unless you are very hungry or have a friend or two to split the meal with. They serve all the traditional New Orleans style fare plus a long list of heart-healthy options. I had the Mr. America Roddy Special - the multi grain pecan and fruit pancakes were the best I've ever had! My wife had the eggs shrimp and grits which were spicy and enough for four people. Our waitress Pat was a wizard at her profession - she said she has been working there for 28 years. That alone says a lot about the quality and character of the place. This was our first visit and definitely not our last. Could become another JazzFest tradition for our group!